Patrick Stewart has admitted that he thought he was miscast in Star Trek: The Next Generation.
The actor played Jean-Luc Picard on the sci-fi series between 1987 and 1994 and later reprised the role in several spinoff films.
He told Deadline: "Why would they cast a middle-aged bald English Shakespearean actor in this iconic role as captain of the Enterprise? It made no sense."
Stewart explained that Star Trek creator Gene Roddenberry had insisted that he take the role.
"I guess Gene... had some sort of instinct for it, and his producer Rick Berman was a champion of mine," he said. "Even so, it all felt borderline lunatic back then. It took me a good while to grow comfortable in that role."
http://www.digitalspy.co.uk/cult/news/a ... -trek.html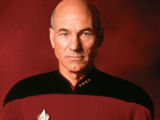 What? have to say one of my fave actors in Star Trek Tv Franchise and a crowd pleaser. I thought he was perfect for the role and couldn't see anyone else in TNG playing the role.